Check it out yourself:
https://artkong.ca
Even though we tend to choose our own tech stacks for projects, its refreshing being able to try new tools that clients pick out for us. This was our first time working with SquareSpace to build a website, and it turned out to be an excellent platform for e-commerce, and this art shop was a shining example.  Lisa B. Kong is an artist that specialises in freeform abstract paintings, with many of her pieces being featured in art shows around Toronto.  She started the Art Kong brand as a means of selling high quality prints, and merchandise of her work online - that's when we got connected.  Using SquareSpace, we were able to cover every piece of the e-commerce journey; from marketing & SEO, to product display & organisation, to ordering & shipping.
Showcasing artwork on a website is very similar to showcasing in a real art show; elements should be clean and minimalistic in order not to distract viewers from displayed works.  In that case, the site uses a light theme with simple geometry and spacing, everything is easy to process so the eyes can rest on what matters most.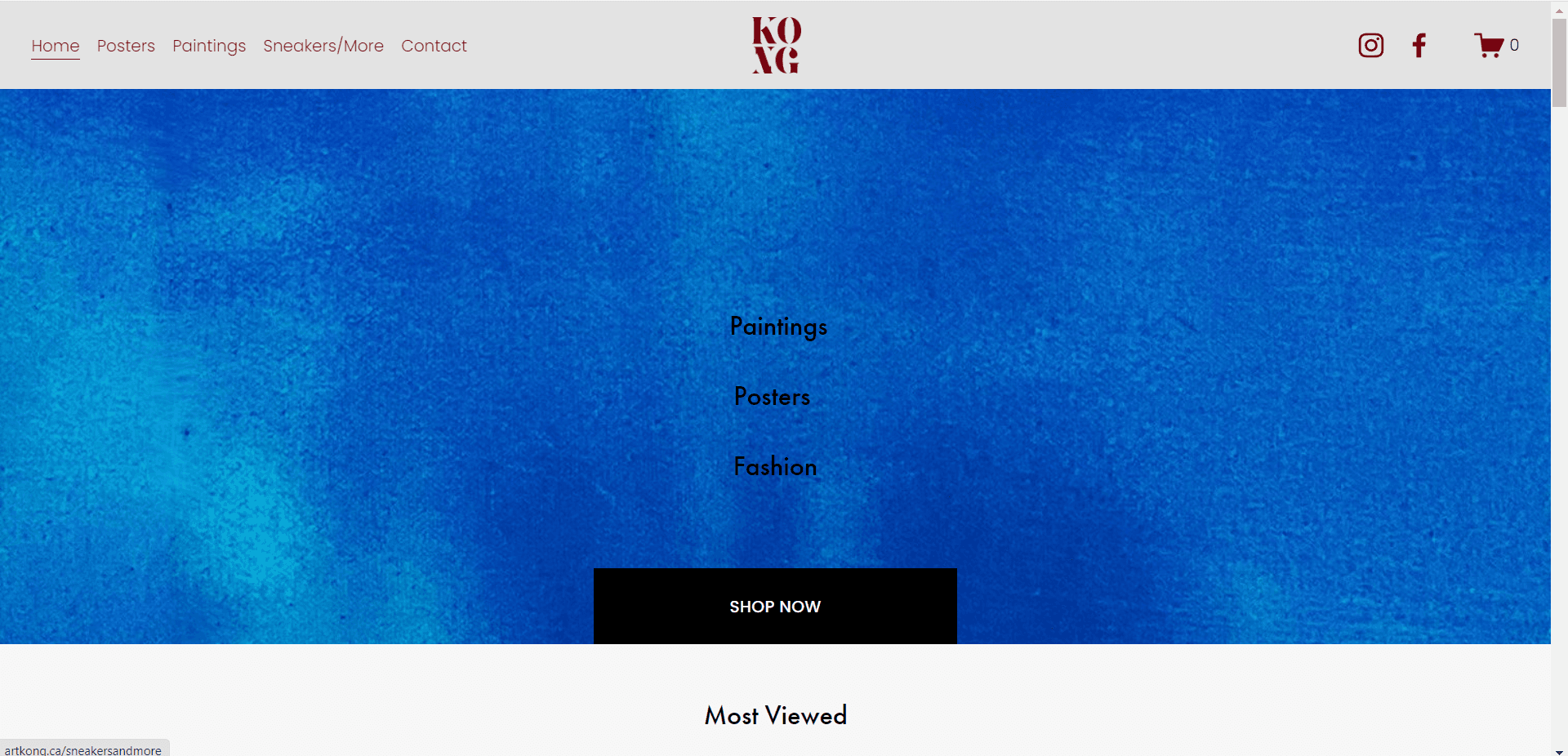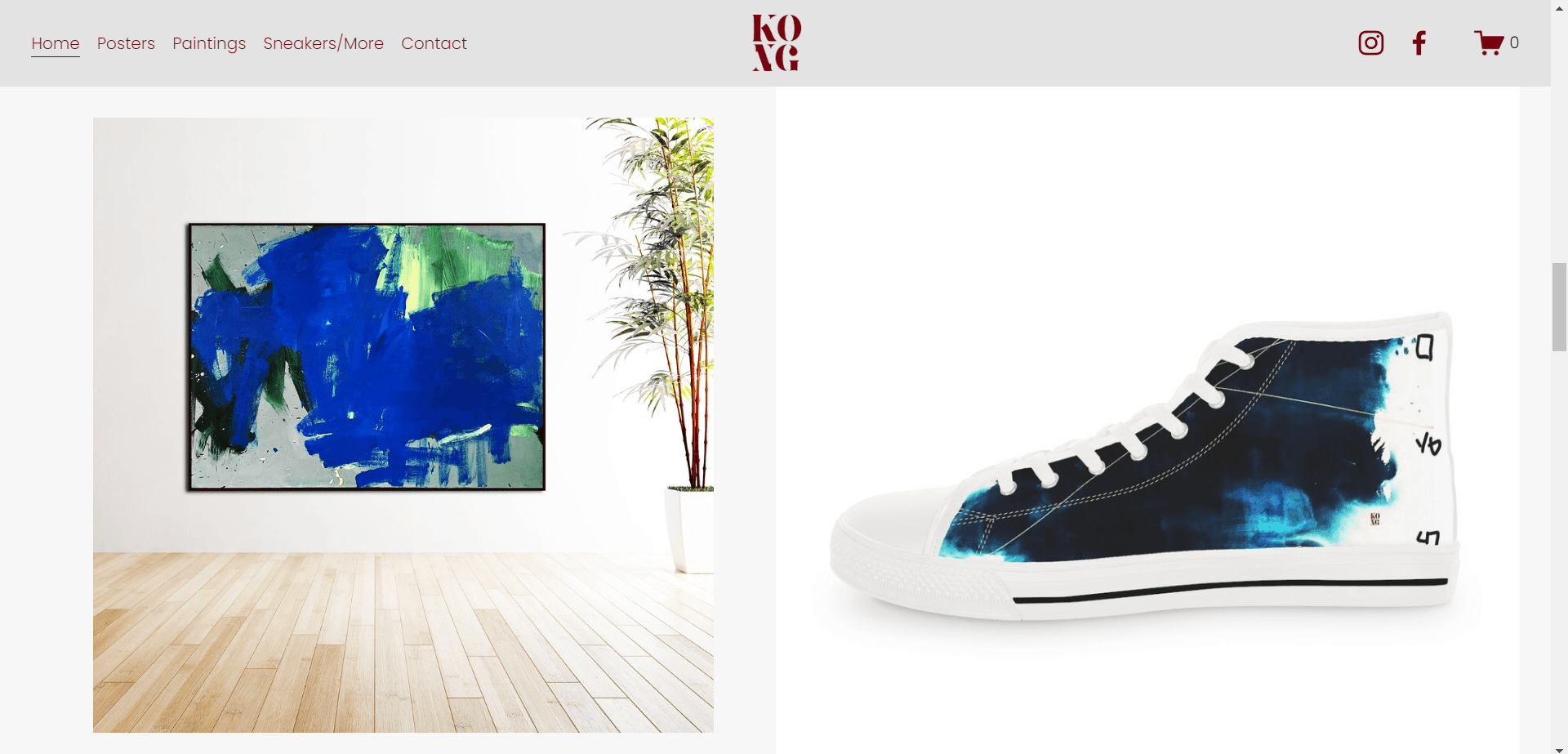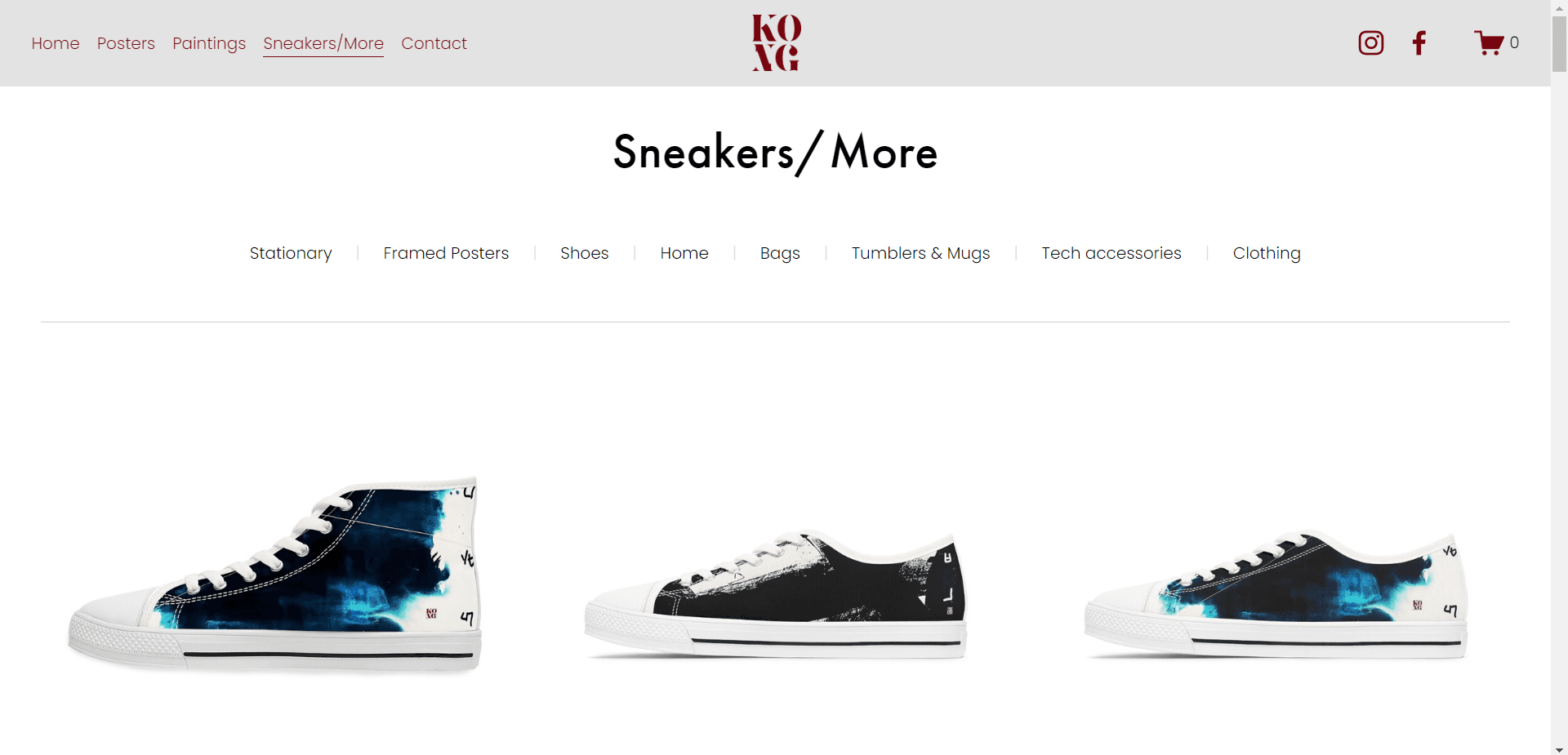 Products filtered by category and subcategory
The shopping cart, with its elegant user experience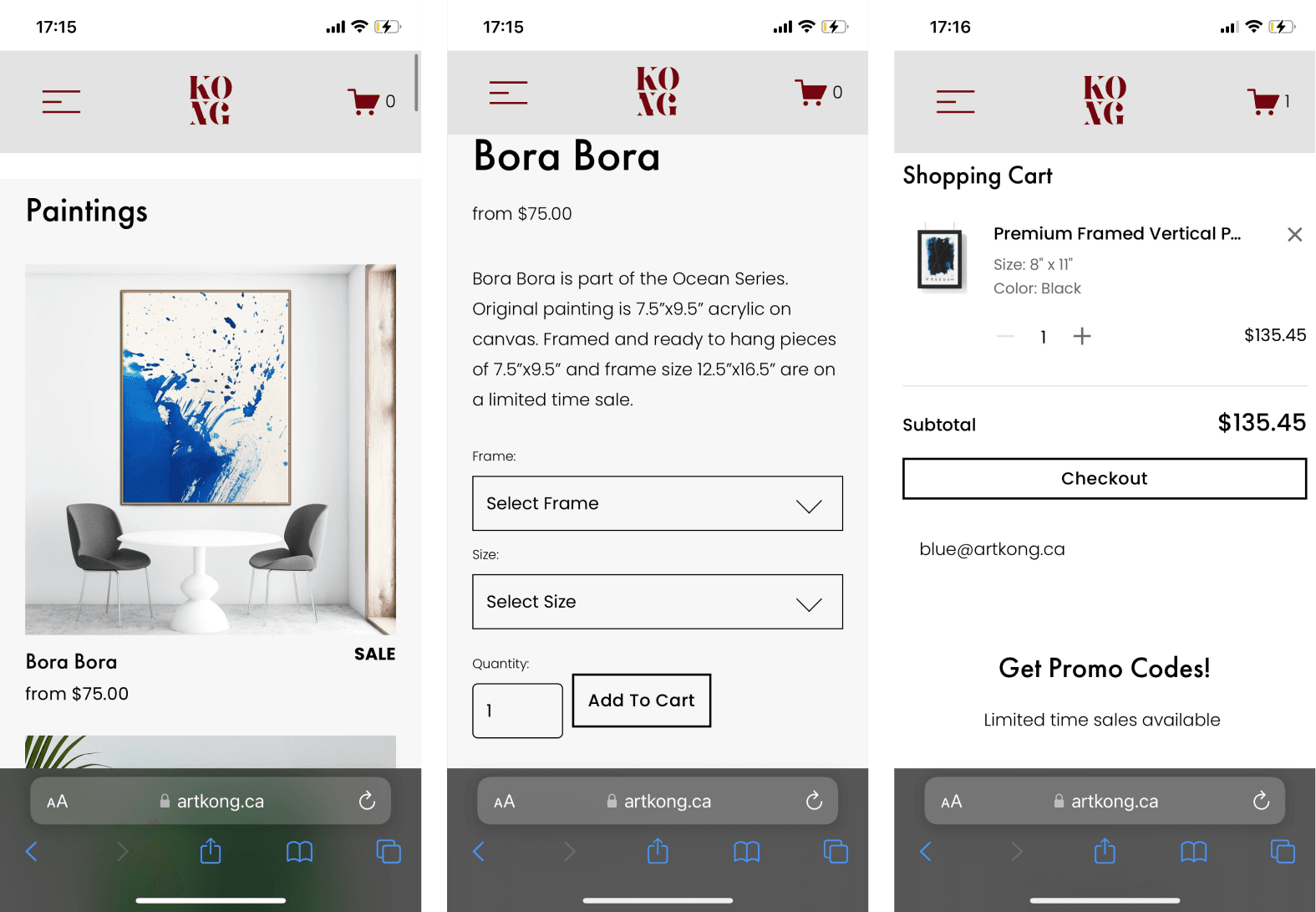 Products are a focal point of SquareSpace's functionality.  Products can be created and managed in just a matter of clicks from a number of places in the creator's interface.  There's a great amount of care put into available data fields for a product, giving the creator options for almost any type of good/service being sold. For ArtKong, we're selling two kinds of physical products; printed copies of Lisa's artwork, and merchandise such as wearables - these products are demarcated by having their own separate store pages named Gallery and Sneaker/More respectively.
For Gallery products, we had approximately 20 unique pieces of art to display.  Each piece can be ordered in a large, medium, or small, and since each piece has its own aspect ratio, we have to calculate the dimensions of each print size based on the original.  Additionally, prints can come in frames, luckily SquareSpace handles this by giving us the option to add variants to any given product.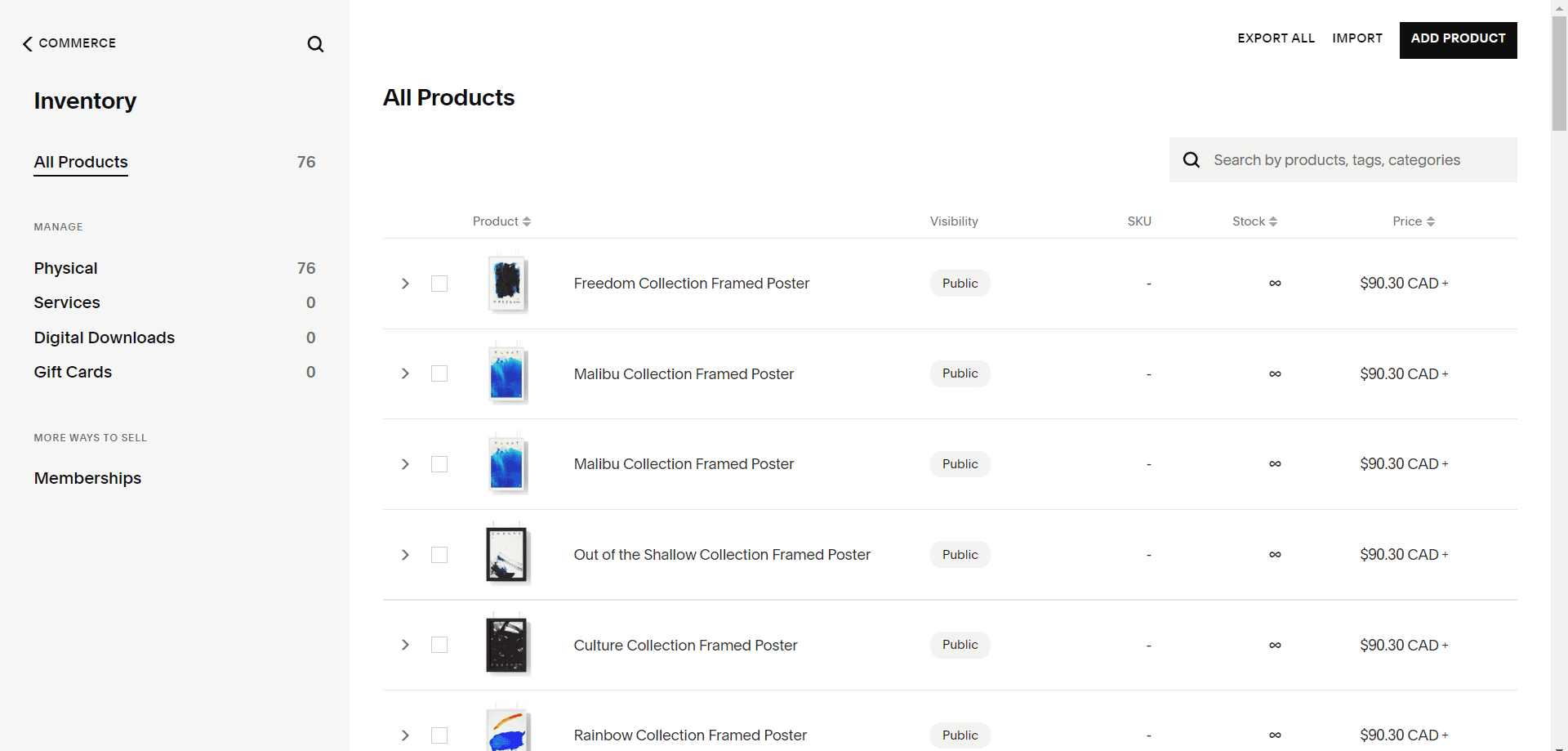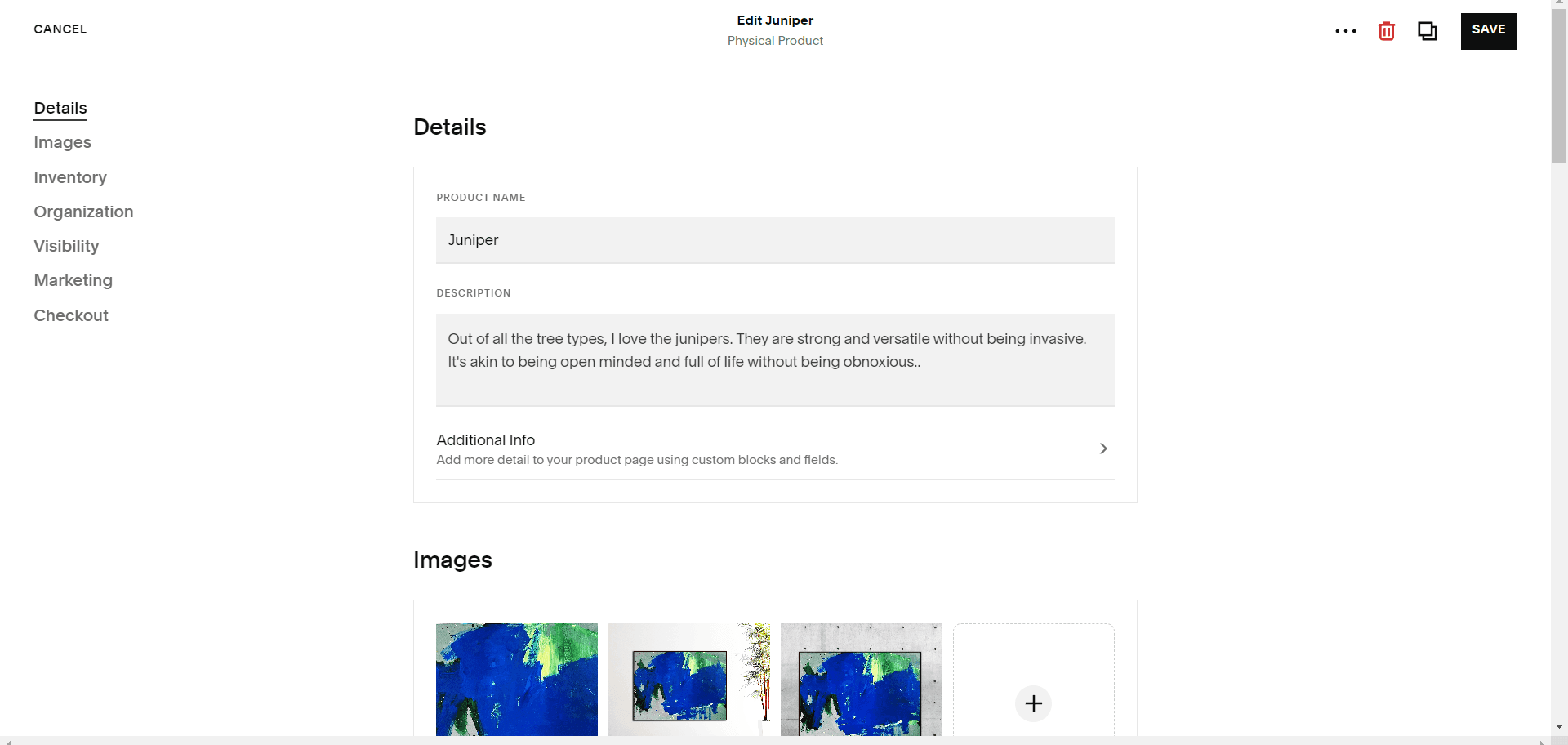 Editing an individual product's data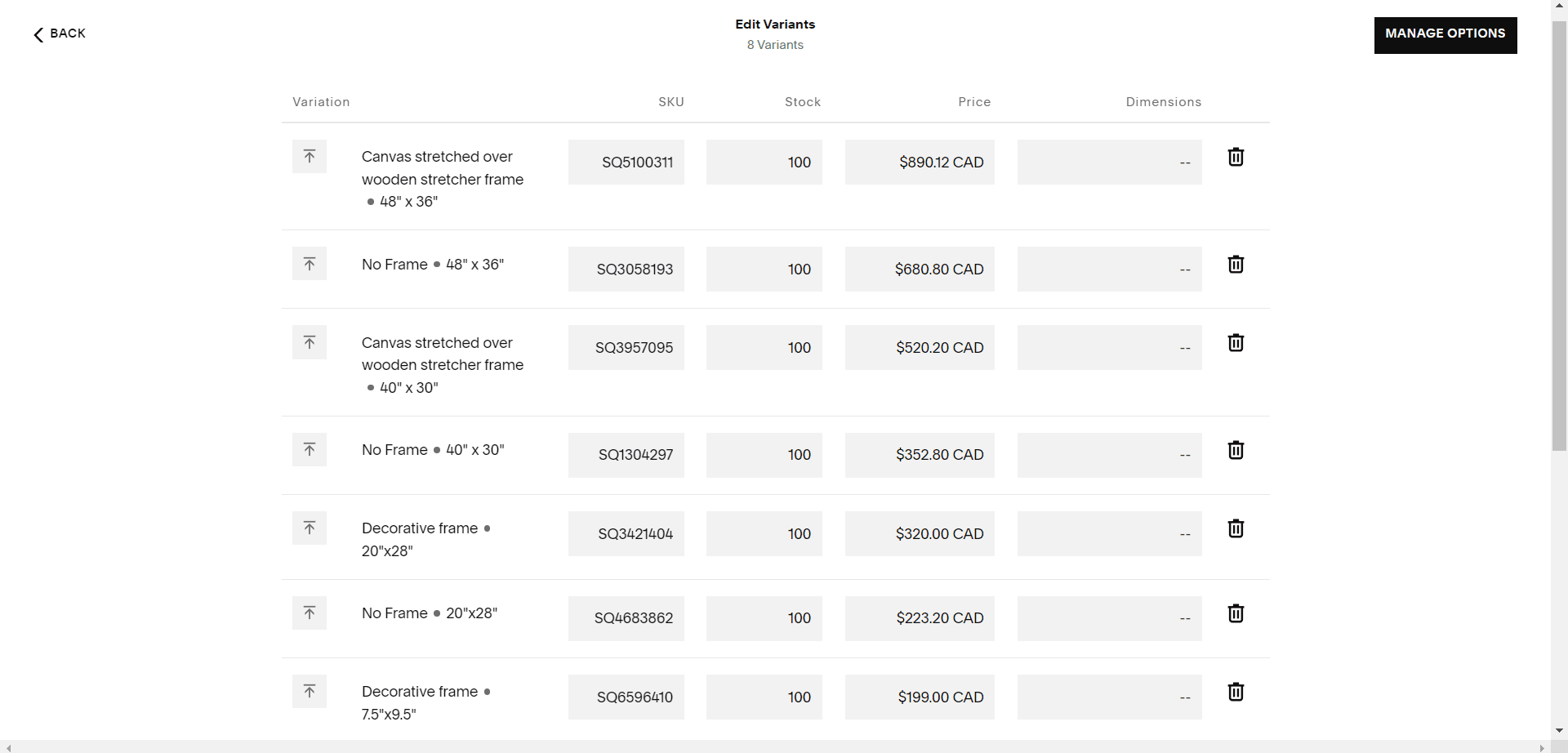 The product variants editor
Variants share most of the same information, will have different prices (including sales) that can be chosen by visitors on the individual product page, they also have their own inventories separate from their other variants.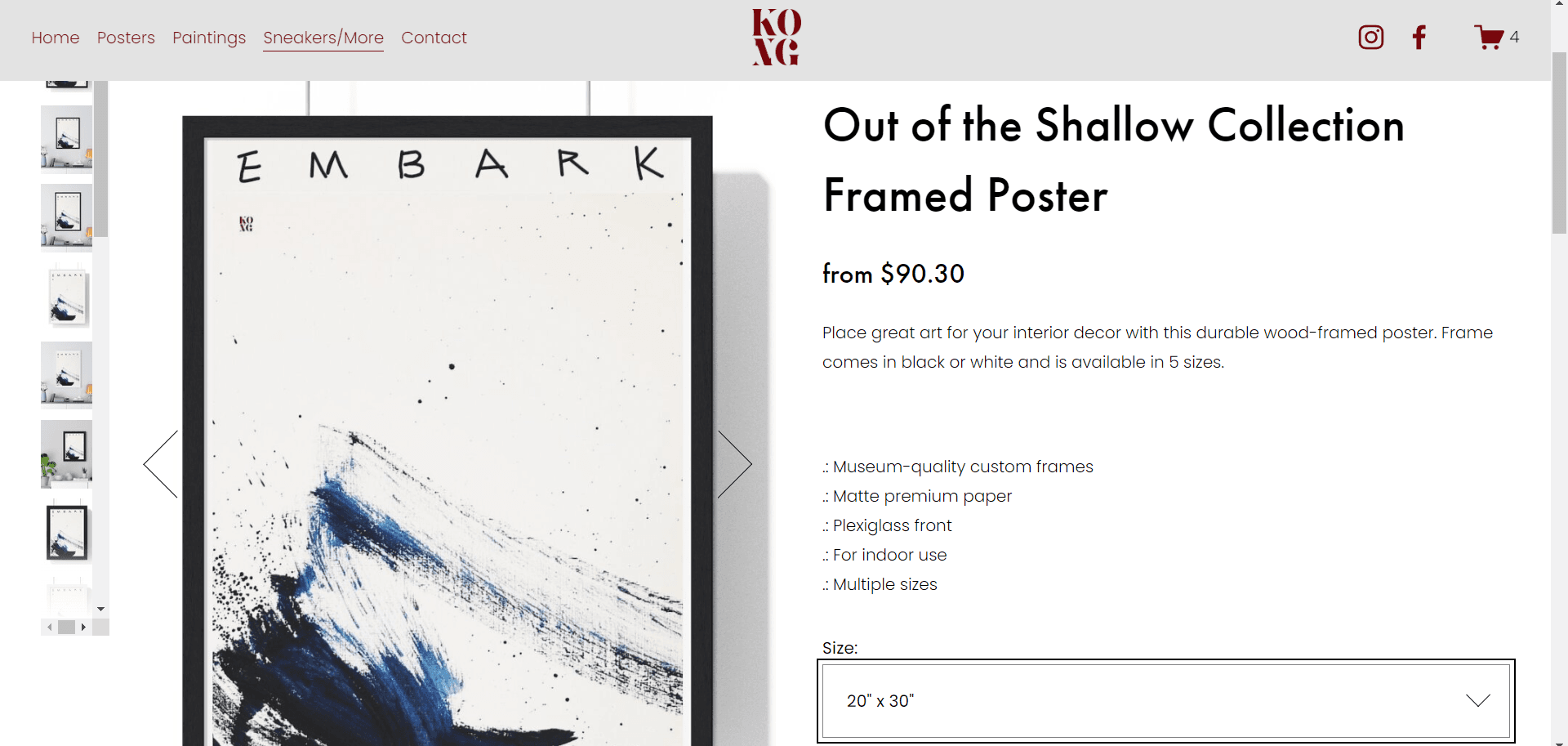 Some of the pieces available are related to each other by series, which can easily be handled by organising them into categories.  We also have the option to feature our favourite prints, and link related products to each other to improve discoverability for shoppers. For SEO purposes, a strong description, title and simple url slugs are always important too, check!
The Sneakers/More store showcases Lisa's work on lots of different mediums from shoes, to mugs to phone cases - I actually ordered a neat sweater for myself after we finished this project, can't wait for it to come in!
Ordering products and payment is extremely straightforward with this platform.  Back when we started this company, one of our first projects was a custom coded e-commerce store that had a very similar shopping system, however our team went through an entire Olympic decathlon to get it working on the backend… Glad to say we've grown a lot since then.  Although we're still the biggest fans of custom solutions, SquareSpace's simple step-by-step checkout setup is brilliant and can have your store up and running in minutes.  All the seller has to do is choose how they want to process their payments (options include Stripe, Paypal, etc.), connect their bank account, and voila!  Now shoppers can enjoy buying products through a secure and simple checkout with peace of mind. 
So how do we handle the logistics of getting these products to the customer you might ask? This is where SquareSpace really shines.  In most cases, merchants looking to sell online have to get in contact with shipping companies to ensure orders are fulfilled, and even manufacturers to produce those goods if the owner isn't providing it themselves.  In our case, we have solutions for both the prints and merchandise. 
Prints are copies of the original artworks, which come on high quality fine art paper.  Vistaprint is a well known all-in-one print shop that can easily produce whatever piece we order, in any size & quantity we need, and ships it to Lisa's doorstep in a matter of days.  Our team has used Vistaprint in the past for a matter of marketing materials that always come out top quality and professionally cut.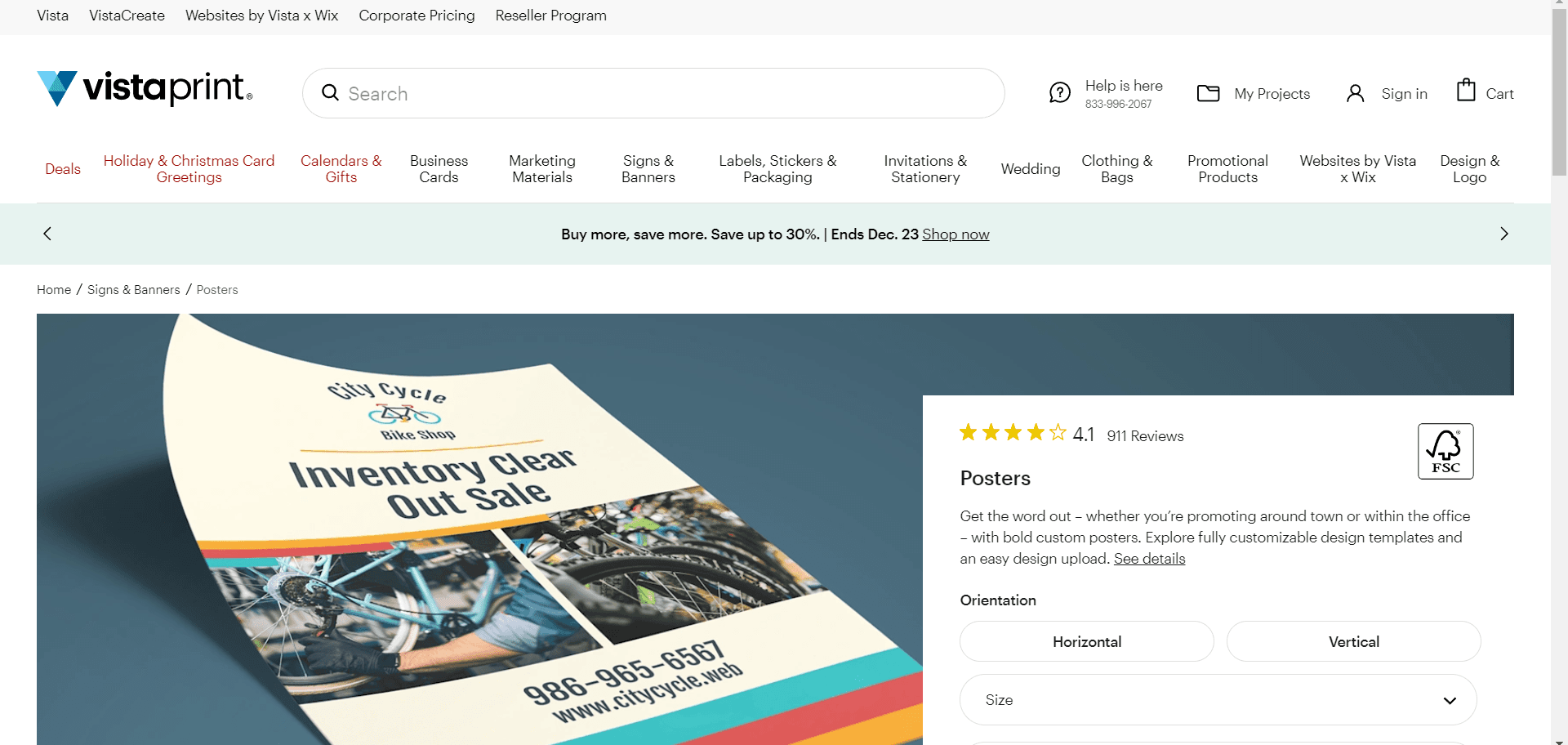 Next, we utilise Squarespace's vast extension library to connect our store to EasyShip.  EasyShip is a super powerful tool for connecting sellers with the fastest, cheapest, and greatest value logistics solutions globally.  Through this extension we can directly sync Art Kong's recent orders list to the platform, choose the ideal shipping option for each order, and schedule a date  & time for a courier to pick up prints (that we just got from Vistaprint) to Lisa's house.
A list of all current shipments from the Easyship orders manager
For an even easier all-in-one experience, we chose to completely handle the merchandise store through Printify.  All printing and delivery logistics are handled by Printify, the only thing we had to do was pick some shoes, hoodies, phone cases, etc; throw our designs on, and then watch as the extension adds those products and all it's variants to our SquareSpace site - magic!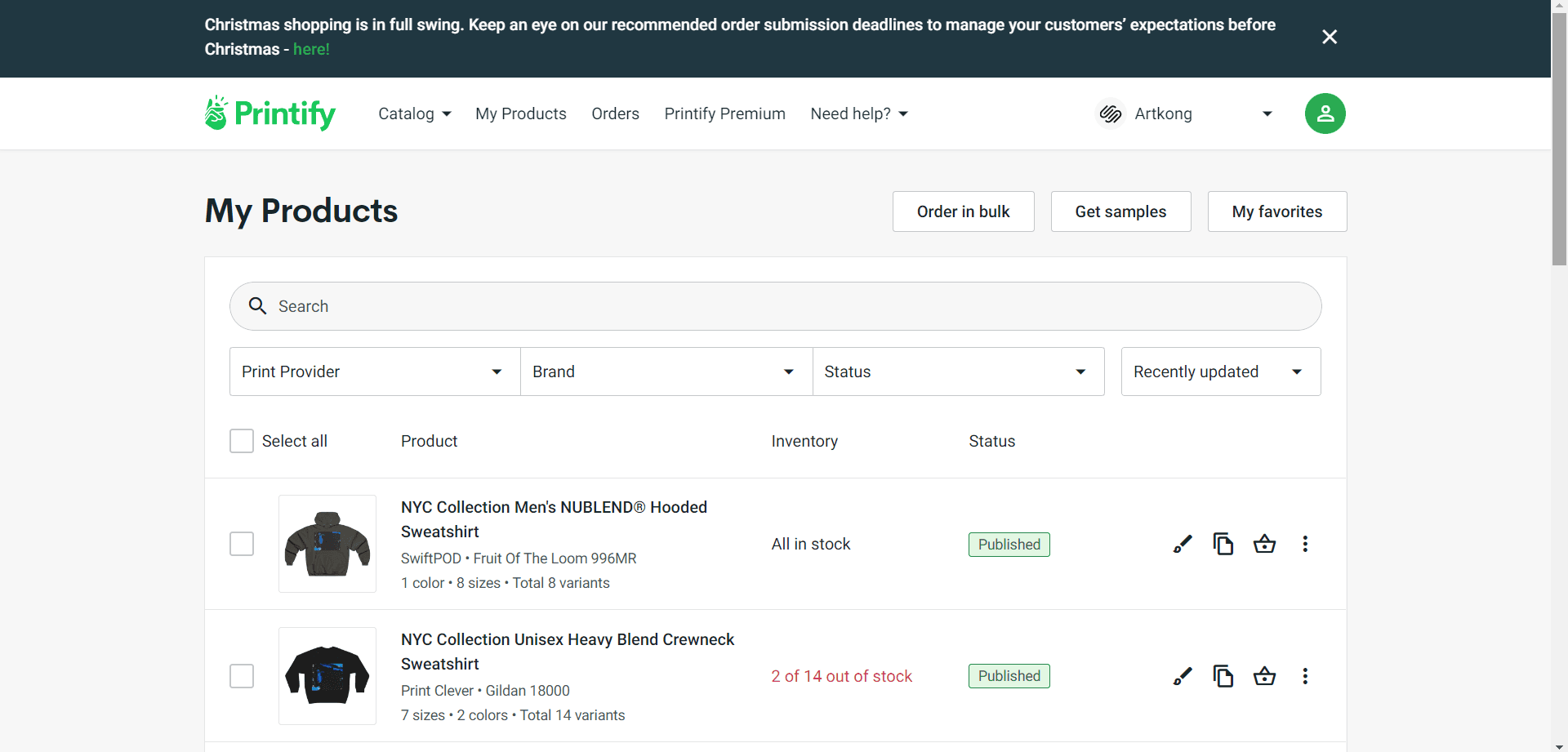 Exposure is absolutely one of the greatest uphill battles for an artist.  Luckily Lisa has already been featured in a few art shows in Toronto, and has a solid social media following as a base to launch from, now let's try to improve conversion.  Just as SquareSpace elegantly handles everything we need for a sophisticated buyer's journey, common digital marketing practices become a breeze as well; let's go over email promotions, and the surprisingly complex Meta Business Suite.
Facebook and Instagram are amongst the most popular social networks in the world, and absolute powerhouses for marketing in the commerce world.  If you're looking to manage both platforms and Facebook Messenger professionally, Meta Business Suite is the perfect command station.  The suite has tools to import & manage products straight from SquareSpace, switch to business accounts for both Insta and Facebook to access storefront functionalities, track visitor activity, and create advertisement campaigns.  The ability to add a 'View Shop' button to Lisa's instagram profile allows curious visitors with the shortest of attention spans to see what Art Kong has to offer.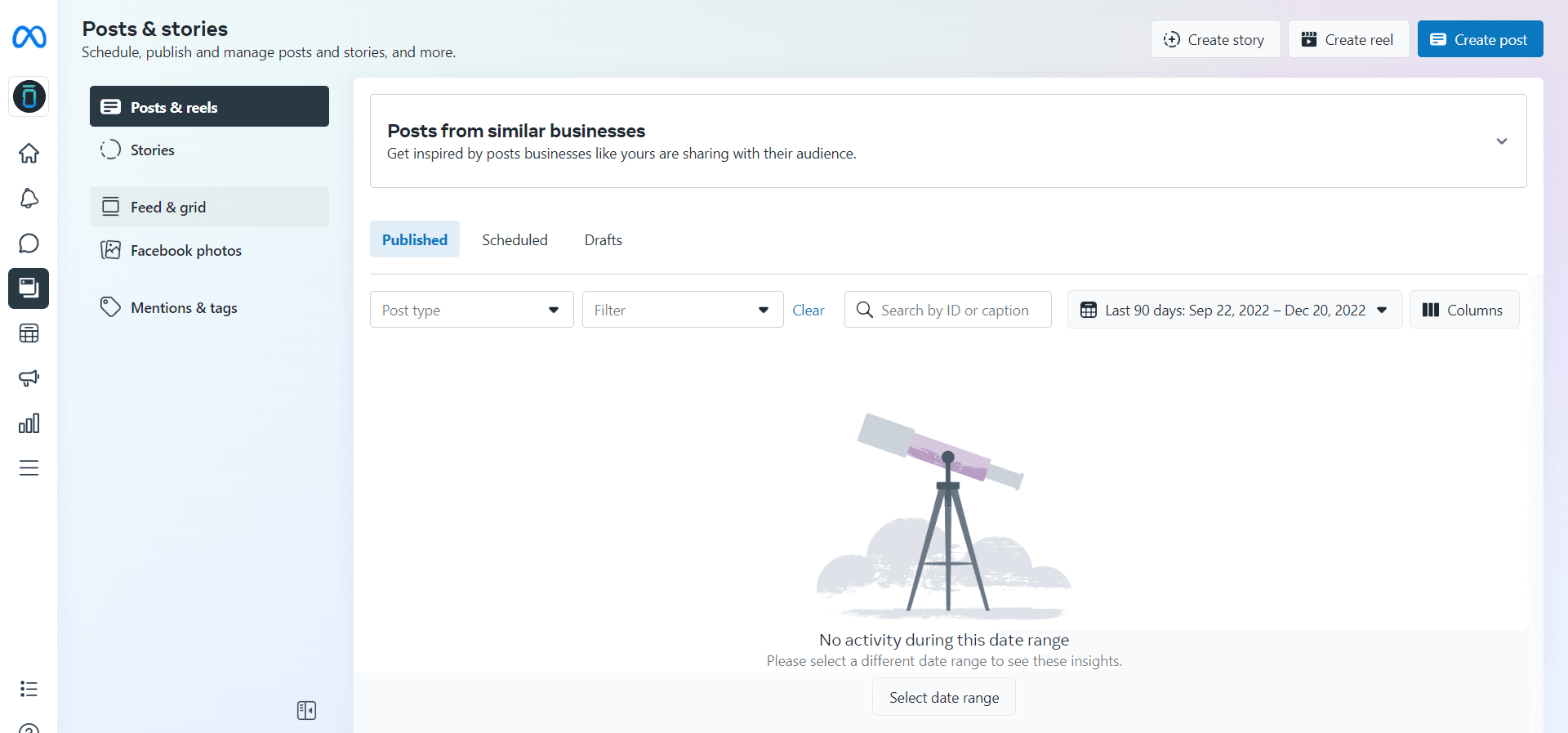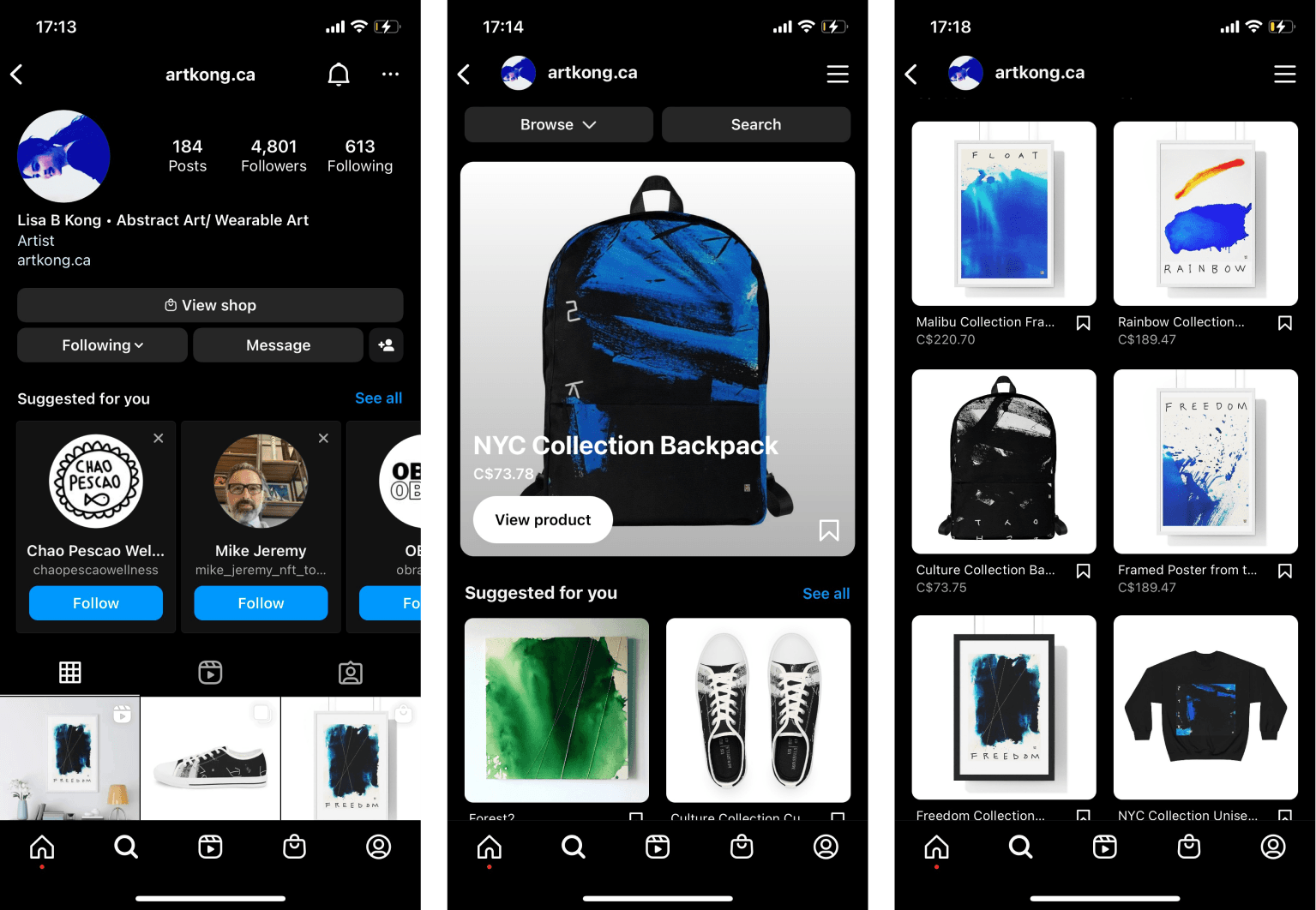 Customer retention is arguably more important than finding new buyers.  The higher a consumer climbs up the loyalty ladder, the more likely they'll keep coming back to buy more products.  We can encourage this behaviour by offering discounts to shoppers that subscribe to our newsletter, no need to worry… SquareSpace has that covered too!  We can send a special promo code for 20% off all products at checkout, sent via email to anyone that adds their email address to the subscription list.  With this list, Lisa can send out future promotions featuring new products or updates to her fans.
SquareSpace's email campaigns manager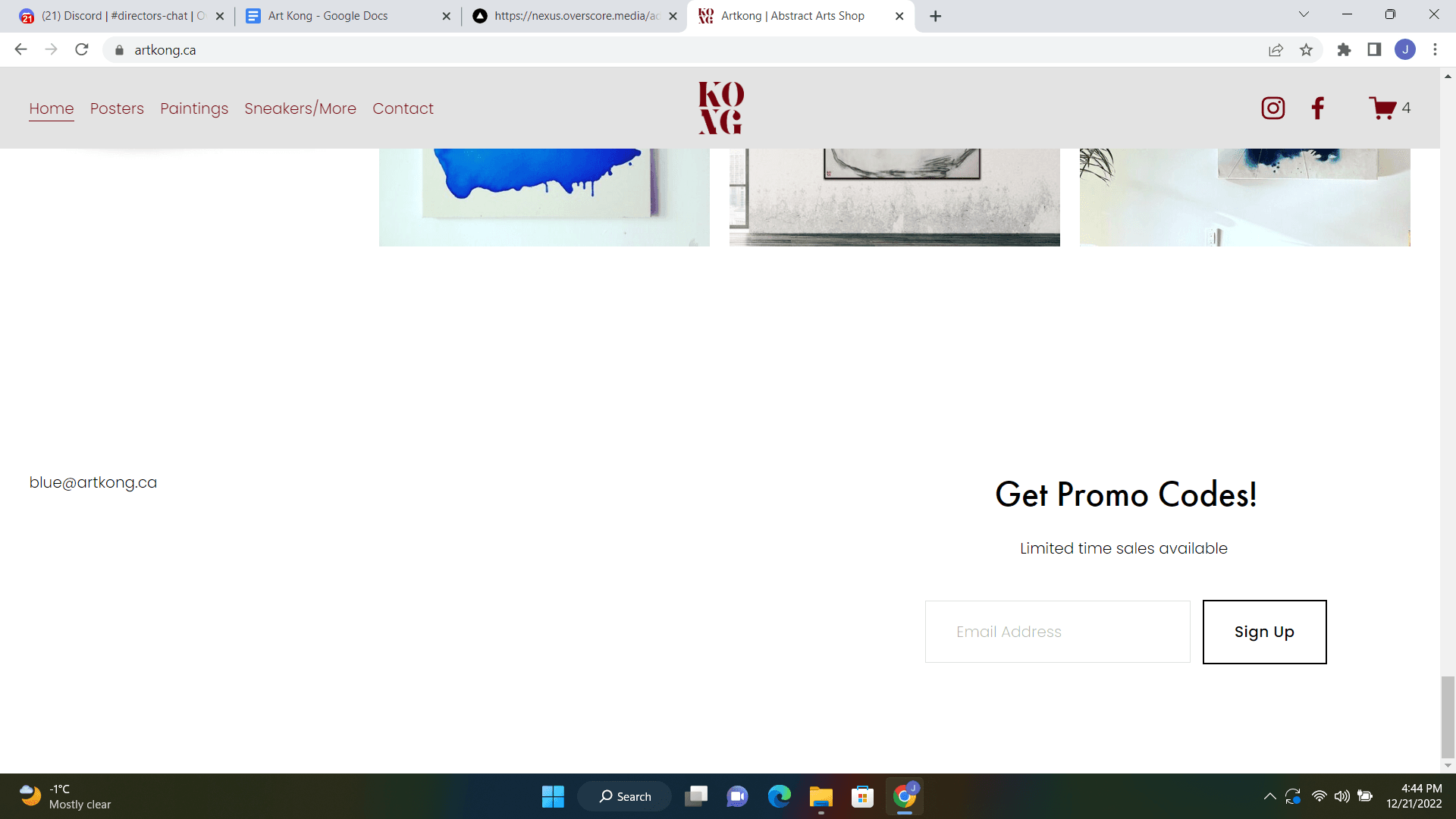 An unobtrusive newsletter signup box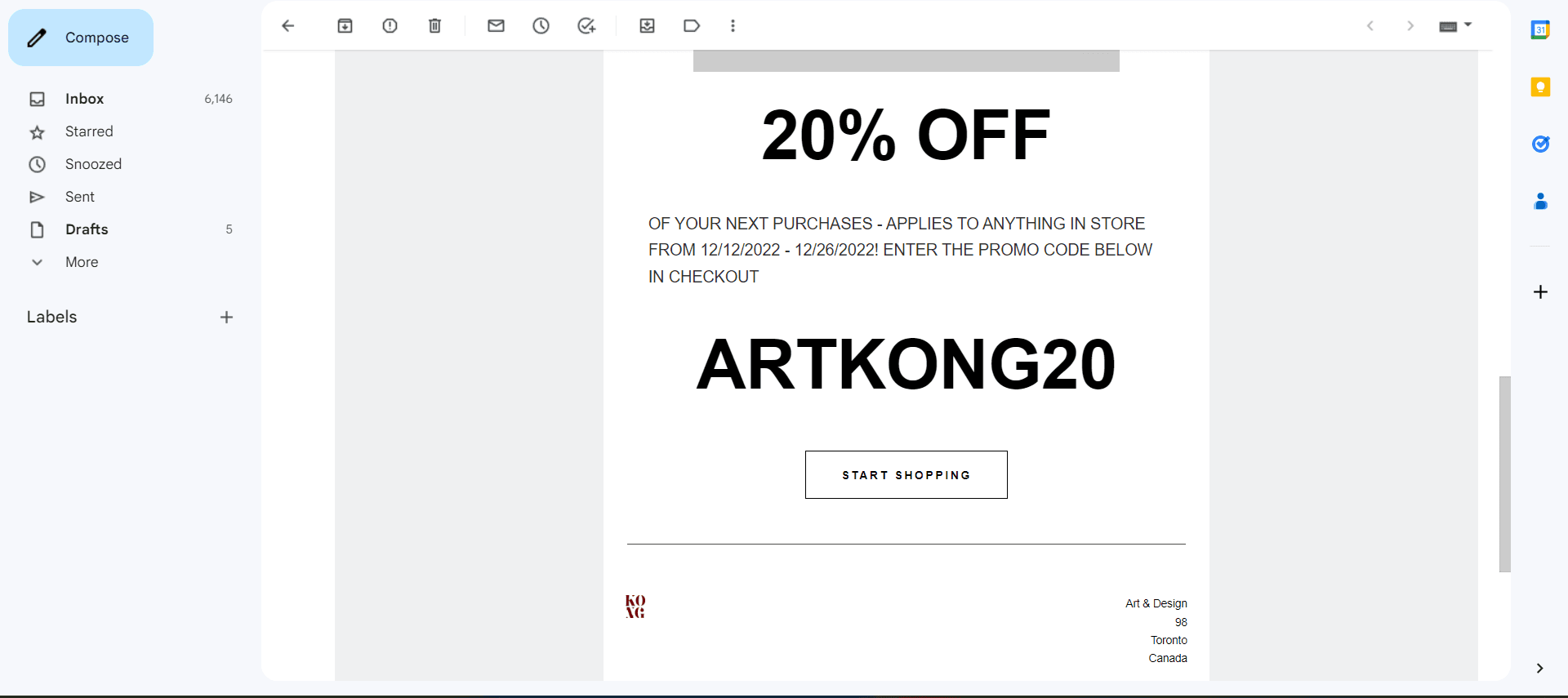 An example of a promotional email